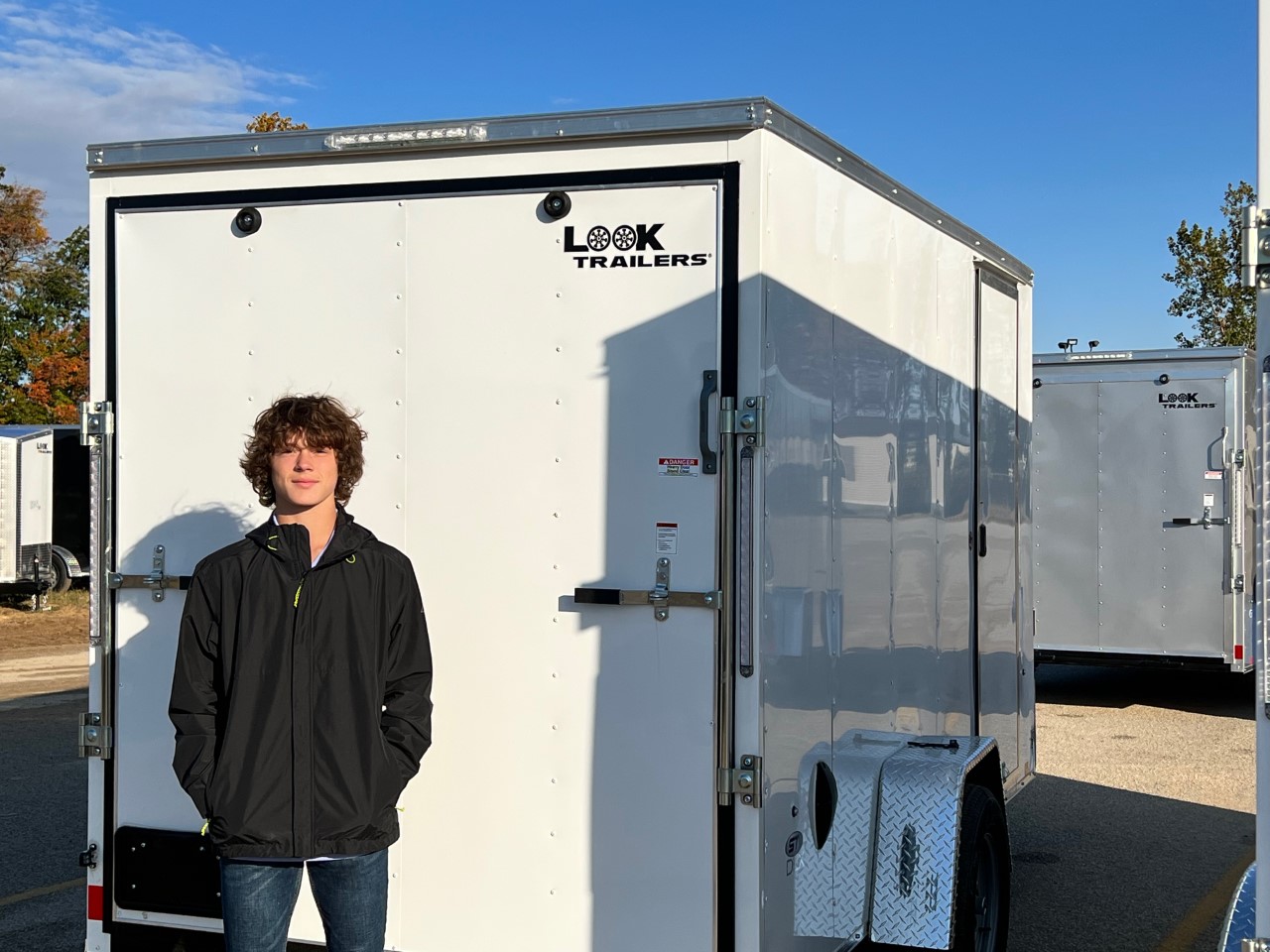 Alex Eby is the newest Look Trailers marketing intern from Northridge High School. He is a senior and plans to attend college to study advertising and marketing. Alex plays football and lacrosse for Northridge.
Alex brings a strong desire and passion for marketing and will be a valuable asset to our marketing team.  So far, over the first couple of weeks, Alex has been able to facilitate a multitude of various projects such as, but not limited to, editing blog posts, WordPress website fixes, and SEO strategies.  In addition to these unique roles, Alex has been able to hone in on taking over some of our Look Trailer's social media pages and posts (Facebook, Instagram, TikTok, and Pinterest).
Alex was brought on to the Look Trailers marketing team for the school year ( August through May). He is at Look every day from 8 a.m to 11:30 a.m. After work, Alex maintains a full course load between school and athletics (Football & Lacrosse).
"It was a no-brainer to have Alex as our marketing intern.  Alex took the initiative to get this position by reaching out to Look.  At someone his age, it is rare to find someone who is willing to challenge themselves with the drive and leadership it takes to step out of the norm of social cues and really embrace their goals and aspirations.  That being said, Alex has really progressed in posting blogs and editing websites. He has also done an excellent job of helping us grow our social media channels.  We are certainly looking forward to working and growing with Alex as he continues to improve his marketing knowledge and leadership here at Look Trailers. " – Digital Marketing Manager, Tommy Taylor
Please join us in welcoming the new intern Alex Eby to Look Trailers.
---
ARE YOU LOOKING FOR AN INTERNSHIP PROGRAM?
Here at Look Trailers, we are always looking for ways to give back to our community.  If you are a school that is looking to offer internships to your students or if you are a student looking to gain work experience to grow your skillset.  Connect with Look Trailers today using the contact form below.  We would like to hear from you. Internships can vary in length and may include a vast variety of job role functionalities.  If this sounds like something you would like to be involved with, don't wait, connect with us today.
---
---
Look Trailers | New Marketing Intern | Alex Eby Intern